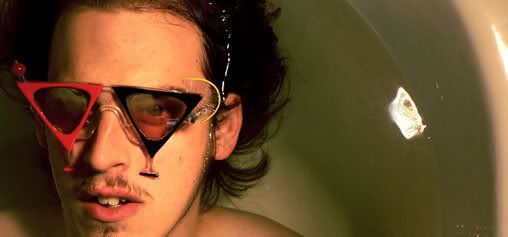 Killing Don (evolution of a memory) is a really great party. Free nibblies and beer/wine, sheshah, piñatas and a killer DJ. To enter, you ring the doorbell and are welcomed by the hosts, your picture is taken and you are shown around the place, a huge Bay 12 at Carriageworks, decked out with a few spare lounge sets, party lights, the aforementioned piñata and long strands of unwound video tape hanging from the ceiling. You get comfortable, you meet people, maybe you have a quick dance. From then on, just like at all good parties, things start to get a little strange.
The audience (partygoers) are treated to a gradually swelling series of images, which overlap and surround us. A karaoke performance gone wrong, a brief sexual fumbling on a fold out couch, an awkward speech and a slap on the back. With these comes the projected images of a couple on a mattress and a slideshow of photos from the night. The effect of this is to immerse the audience in a kind of dream logic, or rather a drunk logic. Most effectively illustrated by the passion pop skulling competition, which leaves the performers quite sozzled and a bit red faced for the last section of the show. Kudos to Luke Holmes for completely dominating in that race. As the party ends we're in much the same condition as the performers, drunk on wine, images and excellent tunes. Walking to the train station afterwards I can't really recall much of what happened but it doesn't mater. As Malcolm Whittaker, one of the hosts, proclaims in his welcoming speech. "It's not about all those things. It's about the moment you know!"
Team MESS are a group of young UOW graduates and Killing Don is a work that gestated throughout 2008. First with a Performance Space residency, then at Quarterbred, Underbelly Arts Lab and UOW. This version of the work, programmed in the Performance Space season, is the culmination of their various showings and workshops. It still has the vibe of a showing somewhat; with the nuts and wine, certain sections dragging on too long and the introduction acknowledging all those who helped get the work up and running. In a different context this could have been a problem, but considering it was a "members only free event" it didn't feel as if it mattered all that much.
As a recent graduate company, Team Mess are a good example of what making the right connections and writing inordinate number of applications can get you. From a student perspective it reinforces the necessity to learn the language of applications, to research past recipients and so on. All those mock grants and tortured group work seem a lot more important than the 20 or so percent they are worth in our course work. Hopefully all the experience writing them means that Team Mess will get the opportunity to continue to develop as a company.
Mark