Written by Aleksei Arbuzov
Directed by Simon Stone
Hype is a dangerous thing, a poisonous thing. It is seductive and works within the imagination first of all; a few sentences or a picture is enough to get it started. There in the imagination it simmers; the words of praise repeat themselves, the picture grows bigger, 3D in fact, and then extends to represent the entire breadth of one's desire. But however perfectly it manifests in the brain, it isn't satisfying simply to think on it. Despite trawling through the vast pools of information in the internet or library for more snippets or glimpses of its true nature, once that is exhausted you are left in the same position. Unfulfilled. Hungry. At this point it moves into the real world and becomes about sharing the hype externally, spreading it onto close friends or colleagues. Mining them for information, exciting them, watching them build their own fantasy and letting it inform your own. But still this is not enough, you're still hungry, you just have company. Hype works insidiously to take over personal consciousness, until every waking moment is empty unless satisfied, for better or worse, by whatever is being hyped up.
For me, Simon Stone had a lot of hype. This is a director who at 24 is a member of one of "melbourne's most vital new companies" (
Alison
) The Hayloft Project, who, after winning the $20000 George Fairfax Memorial Award in 2008, this year alone has directed 3xSisters, Spring Awakening, Leaves of Glass and The Promise, with The Only Child set to premiere at Downstairs Belvoir in September/October. He is in vogue, described variously as "brilliant", "classical" and "dynamic" with an "eye for a memorable theatrical image". I pored over the reviews of The Hayloft Project, excited that such a young company could be doing such intellectual and consistently acclaimed work, gagging to actually SEE something, after missing Spring Awakening at B Sharp in 2008. (which my co blogger Simon raved about to me). Finally, (and surprisingly) my opportunity came with The Promise upstairs at Belvoir, featuring two actors I greatly admire in Alison Bell (Moving Target) and Ewen Leslie (War of the Roses, The Serpent's Teeth) and a third closely aligned with Hayloft, Chris Ryan. So, obviously… well come on, wouldn't you be, I was keen keen keen keen for the show.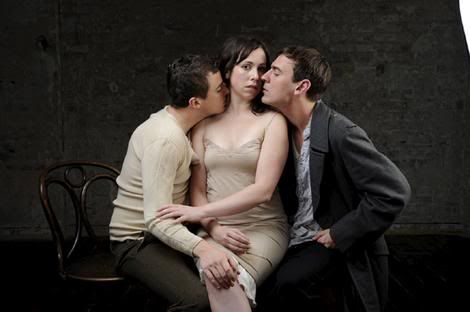 The Promise is written by Aleksei Arbuzov, a post thaw Soviet playwright who, in this particular work, focuses on a relationship formed between three teenagers during the grueling siege of Leningrad from 1941- 44. Then in a series of filmic scenes, follows the development of this triangle over the passage of time, first at the end of the war, then months, years later as they try to reconcile their fevered teenage dreams with their relatively comfortable existences. Steady jobs. Marriage. It is a work concerned with friendship, love and longing.
Simon Stone stages it on Adam Gardnir's revolve, a raised wooden square construction which the actors appear from under and are turned around upon. Behind this, as the play progresses, various household items are placed opening up a new location, softly lit by lampshades. But the set is plain, and underused. The revolve adds little to illuminate the changing dynamics of the characters, more often than not serving to obscure our view of them, with the back wall of upstairs Belvoir getting many of the most powerful lines. The lighting after a promising start of strobe explosions and thin beams of warm light through a hazer, descends into a energy draining slew of long scene change blackouts which kill any tension or interest in the way the play moves through time. Even Hamish Michael's gorgeous sound design couldn't cover these deathly pauses in the story, which completely undercut the filmic nature of the text. Further than this there were TWO intervals, which further slowed down my engagement with the performance. I could say that the intervals were conceptually valid in that it broke up the acts, and divided the three distinct periods of the character's lives, but really… It felt more like an opportunity for a set or costume change, (however miniscule or ineffectual they were) and purely practical rather than creatively interesting. The performances are strong, Ewen Leslie was by turns invigorating and desperate, Alison Bell passionately committed and Chris Ryan has a natural warmth and gift for comic timing. But even with these brilliant actors the piece is overly sentimental and never approaches the political undertones of the play's setting, seemingly whitewashing it with romance and mateship. So if I can't place the blame on the actors, or purely on the lights and set, I suppose I have to lay it on the director.
This for me is the danger inherent to hype. I thought the work was bland and after having read and built up an ideal image of perfect actor/adaptor/director Simon Stone, this was a severe let down. I saw no memorable theatrical images, nor anything of the brilliant staging I was led to believe in. Perhaps The Promise suffered for my expectations, maybe it was never going to live up to my imagination, but I don't think that is the case. Other shows where I have indulged in the hype have far exceeded my expectations, the often used as an example War of the Roses and Pacciti Company's Finale being examples of this. Given the sheer amount of hype Simon Stone has floating around him (the biggest rumour perhaps being the SMH's
suggestion
that he's in line to fill the gap Neil Armfield is leaving at Company B's artistic director), I thought that like the others I would be more than satisfied after seeing The Promise. In fact I was disappointed and not a little disillusioned. It's left me with mixed feelings regarding The Only Child at downstairs Belvoir, which I will see, if only to compare a Hayloft project work, with a pure Simon Stone work like The Promise.
Has anybody else had any experience like this, or indeed an experience like this with Simon Stone? I'd love to hear your thoughts, however depressing they are.
Mark