Where are our grads at? Well apparently to opposing ends of the country. One up in Brisbane for Under The Radar 09 and another group down in Melbourne for the Fringe festival. And the shows are on a basically the same time. So if you have unlimited access to plane travel and are a UOW grad enthusiast then this is what you should do…
First up:
The Red Room
by Malcolm Whittaker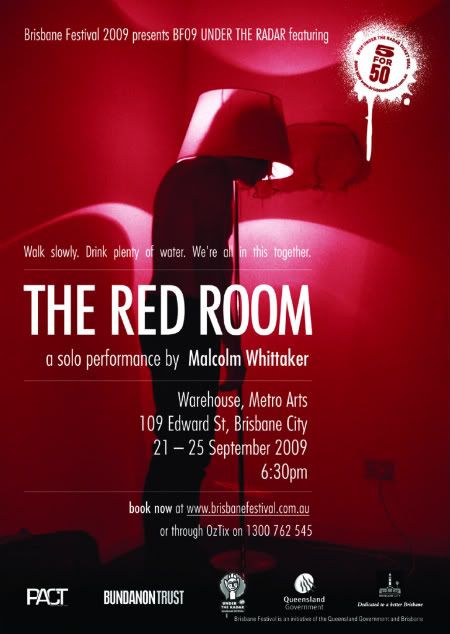 ______________________________________________
In The Red Room a solo performance is longing to and resistant to take place. It is a dance between the unexplainable desire for the spotlight and to hide in the black hole at its edge. It's about looking, being looked at and love as much as it is fear.
"A stand-up comic quipped in a past US presidential election that the person who should run country should be the person that wants it the least, the person that has to be dragged kicking and screaming into The White House. I think a similar disposition is required of performance. A certain resistance to being in the performance situation. Part of you that does not want to there to hold up an integrity outside of oneself. This work is important to me because I believe there is a certain necessity for resistance and terror to stimulate creativity and sincerity in both process and performance. Working with the fear avoids the work slipping into a vacuum, exhausted of purpose, presence and necessity." (Malcolm Whittaker, Creator/Performer)
Warehouse, Metro Arts, 109 Edward St Brisbane
Monday 21 September – Friday 25 September, 6:30pm
Booking:
www.brisbanefestival.com
Malcolm's been overseas for a while but has managed to line this up for himself. It'll probably be awkward, low-fi and shitty looking but that's what he does best. Sticking his head under a lampshade. Magic.
Next up, all the way down in Melbourne….
Nature League in North Melbourne
by Tiger Two Times (Amy Wilson, Georgie Meagher, Megan Garrett-Jones and Natalie Randall)
Retreat into the hothouse. Play in the garden. Help to cultivate a surreal world. Nature League are here to make you radiant, tranquil and relaxed.
Performance group Tiger Two Times merge installation and theatre in their investigation of constructed environments. Inspired by the 'fake nature' found all over the city, from pot plants to community vegetable gardens, and even jungle-themed lounge-rooms, this work delves into human interaction with natural spaces. Questions arise over our desire for greenery - is it purely aesthetic, or environmental? And, how many pot plants are needed to offset your carbon footprint? Nature League is an inquisitive and earnest organisation. Nature League is a retreat. But what will happen when the reality of outside pervades this sunny fantasy?
Fringe Hub - The Warehouse521 Queensberry Street North Melbourne
25th Sept – 2 Oct
Booking:
http://www.melbournefringe.com.au/fringe-festival/show/nature-league-in-north-melbourne
This is the Bake Sale girls in creative rather than curatorial mode, and we think they're awesome in both, so get along to see them if you're down in Melbourne for the fringe.
love Mark