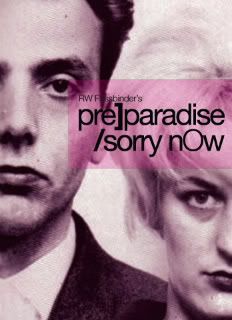 Written by RW Fassbinder
Directed by Christopher Ryan
Assistant Director Sanja Simic
In Manchester England during the mid 60's, Ian Brady, an office clerk, and his work mate come lover Myra Hindley kidnapped and murdered 5 children. The children were raped and brutalised before their deaths, their bodies were dumped in the moors. Brady and Hindley were seemingly striving for a kind of fascist purity through their sadomasochistic acts and serial killings. A good indicator of the kinds of values they tried to embody is Brady's reading material; Hitler's Mein Kamf and The Marquis de Sade's Justine. In
pre]paradise/sorry nOw
Rainer Werner Fassbinder, the German auteur best known for his radical film-making, uses the Moor's murders as a tool to critique the dream of social paradise; the figures of Brady and Hindley stalk through scenes of oppressive violence and sexual perversion. No hope, no kindness, just people. It is an unrelenting and harrowing work which reverberates today when considering the increasing number of cases like that of Josef Fritzl, the Austrian man who kept his daughter as a sexual slave in his basement for more than 20 years.
Chris Ryan (the Sydney Front, Version 1.0) has, in this version of
pre]paradise
, created a work deeply concerned with Fascism. He avoids signposting this as such however as none of the costumes or paraphernalia refer to the fascist aesthetic politic, instead it is the world of Andy Warhol's Factory, that Avant Garde chic. It references several of Warhol's works from the 60's; his film Blow Job, the product pieces (Brillo, Coca Cola bottles) and the Campbell's soup cans are all used to particularly devastating effect. The work instead deals with fascism on a more visceral level. The performers belt out their text, almost every moment in this work is seemingly delivered from the metaphorical lectern which, I'll admit, is completely exhausting. I wouldn't have been able to stomach it if it weren't for the delicate image work and choreography which sweetened (somewhat disturbingly) the acting style. That being said, the moments in which the personality of a few odd performers bubbled through were a welcome relief, a breather before the cycle of brutality started again.
This is a structurally and aesthetically powerful work featuring committed and passionate young performers from UOW's Faculty of Creative Arts. These performers are my peers which is actually very exciting. Special mention to Emma Lockhart-Wilson's murky lighting design and Rob Hughes' intelligent AV work, both of whose contribution found an aching beauty amidst the horror of the onstage action.
Mark
Ps. Over the next few weeks there will be a number of reviews of UOW performances. After carefully considering the politics of reviewing student work, Simon and I have decided to do so despite our personal involvement. As after all, this blog is meant to not only be a place for discussion, but a record of our emerging arts practice, a mapping of our personal interests, and what is more relevant to our interests than our own work and the work of our peers? Not only that, but when else would we get an opportunity to see a work by Fassbinder, or indeed any of the other productions looming over the next few weeks. If anyone has any objections or thoughts on this matter, we'll be happy to chat about it further. Just comment.
______________________________________________________
This play operated on quite a high intellectual level. The connections that Fassbinder has drawn in his text between the Brady/Hindley case and West German post-war experience are already quite complex, and with the added layer of the Warhol referencing, there is quite a lot to think about. However, the reason this play was so successful for me was that in the end, it was not about what the play made me think, but what the play made me feel. It demonstrated to me the strength of theatre medium to viscerally affect you. About three quarters of the way through, I was finding the play hard work. As Mark pointed out, the onslaught of the text was quite exhausting, and I was wondering if the play would ever shift pace. It was at this point that possibly the most beautiful piece of 80s pop burst out of the speakers and the entire cast, of 30 or so performers, turned the stage into a nightclub. Rarely have I felt such relief in the theatre. I relaxed as for three minutes I was given release from the violence. The play then shifted immediately back into one of the most horrifying moments I have ever seen on stage as Brady screams obscenities and attacks with an axe handle a child who is slowly backing away whilst Myra films the event, giving us a live feed close-up of the horror on the boy's face. We are left with The Smiths' beautiful "Suffer Little Children" as the details of the murders are projected onto the back wall, whilst Ian and Myra make love against the back wall. I felt completely hollow. It occurred to me then, that the whole way through my emotions had been manipulated leading up this moment. I had to feel exhausted, so that I could then feel so relieved, so that I could then be so horrified. Chris Ryan's greatest strength I think is that he understands so well how to use theatre to affect people in this manner.
In an emerging practice sense, it is also interesting to me that he uses the form to reflect the content. Mark has already pointed the way the language was used, and the layering of the imagery seemed to me to be doing a similar thing. A friend commented to me that at times you didn't know where to look. I thought this was a clear decision to disconcert the audience. The content is obviously disconcerting, why should the form not reflect that?
The question I am left with however is that of intellectual engagement. Is it ok, that one's view of the show is completely changed by reading the director's note? Is it ok if I only engage with the Brady/Hinley story, rather than the grander narrative that is being attacked? Is it still worth exploring post-war German experience? My thoughts have always been that as far as Chris Ryan is concerned, it doesn't matter what you engage with, as long as you engage. However, I have spoken to others who question the point of staging a work concerning particular themes, in this case that of West German experience etc., if these themes don't come through without reading the programme. I am yet to reach a solid conclusion on the subject.
-Simon